Řídící jednotka - Danfoss Ally™ Gateway, Zigbee (014G2400)
Detailní popis produktu
Danfoss Ally™ Gateway, Zigbee (014G2400)
Zařízení Danfoss Ally™ Gateway je programovatelný bezdrátový řídicí systém, který připojuje všechna zařízení
Danfoss Ally ™
k internetu a inteligentně řídí vaše vytápění prostřednictvím bezplatné aplikace stažitelný z Google Play a App Store. Součástí dodávky je napájecí zdroj a kabel LAN pro připojení k internetu.
Danfoss Ally™
vám poskytuje všechny výhody plnohodnotného inteligentního topného systému - v jednoduché snadno použitelné aplikaci. S
Danfoss Ally™
získáte úplnou kontrolu nad radiátory a podlahovým topením, jakož i nad účtem za topení. Prakticky odkudkoliv a kdykoliv, ať už jste doma nebo na cestách. Váš topný systém můžete dokonce ovládat svým hlasem, protože
Danfoss Ally™
mluví s mnoha vašimi dalšími zařízeními v rámci internetu věcí IoT.
Intuitivní uživatelské rozhraní aplikace je navrženo tak, aby vám každodenní život byl co nejjednodušší a nejpohodlnější. Aplikace vás provede rychlým nastavením. Umožní vám přizpůsobit vytápění domácnosti svým každodenním rutinám. A vždy vám poskytne úplný přehled a kontrolu.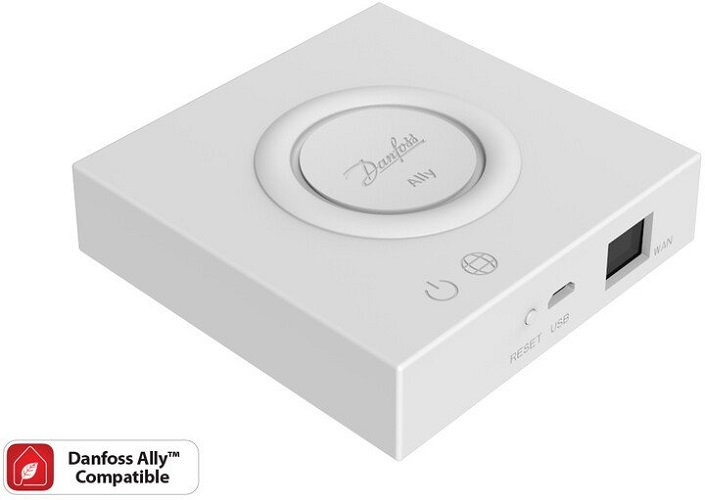 Danfoss Ally™
má certifikát Zigbee 3.0. To znamená, že mluví stejným bezdrátovým jazykem jako tuny jiných inteligentních domácích zařízení po celém světě. To Vám umožňí připojit
Danfoss Ally ™
k vašemu stávající inteligentní domácnosti. A aby byla vaše inteligentní domácnost ještě inteligentnější.
Řídí denní harmonogram vytápění jednotlivých místností a umožňuje rychlé a snadné nastavení.
Pro zajištění správné teploty, když ji potřebujete, se používá funkce Předehřívání. Když je zapnutá funkce Předehřívání, znamená to, že nabíhá nejbližší naplánovaný režim Doma.
Software Danfoss Ally ™ Gateway se automaticky aktualizuje z internetu.
Klíčové vlastnosti:
Plná kontrola radiátoru a podlahového topení pomocí aplikace ve vašem smartphonu
Vyšší úroveň pohodlí a energetická účinnost přizpůsobením teploty místnosti dennímu harmonogramu
Snadné použití a instalace s intuitivním ovládáním aplikací
Dálkové ovládání odkudkoliv
Funguje s Amazon Alexa, Google Assistant, Apple Voice Control
Vynikající regulace teploty
Vyhovuje EPBD
Otevřené API
Certifikace Zigbee 3.0
Buďte první, kdo napíše příspěvek k této položce.